Weaving a New Story
Mariam* dropped out of her village school because her family lived in poverty. She soon found it was easy to earn money by visiting the young men in her village.
Whe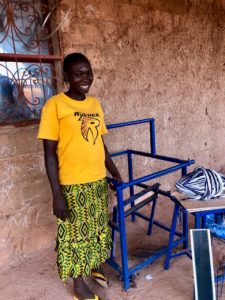 n Mariam became pregnant, her family kicked her out, and she went to live with an older relative in the city. When her relatives found out that Mariam was pregnant, they tried to send her back to her family, but they refused to take her.
Mariam gave birth to a premature baby. Through our team's hospital ministry, we met Mariam, helped with her medical expenses, and walked her through the heartbreak of her baby's death. During this time, Mariam accepted Christ as her Savior.
Mariam began attending church and started counseling sessions with a woman there. We also bought her a weaving machine and paid for her lessons. After some negotiating, her family accepted her back into their village. Mariam is now an excellent weaver, and we received word that she is getting married.
We are thankful  for this happy news and pray that God will use us to help other young women in West Africa.
Please pray for the many vulnerable young women in this region. Pray also for funds to build a learning center in "M" village that will provide training in practical skills, general education in reading and writing, and spiritual formation to young women. For more resources on the project visit www.alliancewomen.org/resources.
Alliance Women hopes to raise $36,500 for this learning center. Giving information can be found at www.alliancewomen.org/give.
*Name changed