Venezuelan Refugees: Brazil
While most of our focus has been on projects in Colombia that reach Venezuelan refugees, there is also a great—although largely unseen—need in Brazil.
Manaus is a city of two million people in the middle of the Amazon Rain Forest. Today, about 85,000 refugees are calling it home. Unlike other locations in South America, there's a language barrier: the Spanish-speaking refugees are now in a Portuguese-speaking country.
Early in 2020, I was praying for the Lord to show me how to respond to the need in Manaus. That very day, I was connected with an Alliance pastor, Alex, who recently moved to Manaus! I scheduled a trip in March to begin our work, but just 24 hours before departure, my flight was cancelled due to the coronavirus.
I was frustrated (and, to be honest, a little angry) that I couldn't make the trip. However, as I sat in my office, vented to God, and listened for the Holy Spirit, it became clear to me that some small things could still be done even without the trip.
I wrote to Pastor Alex and asked if he could use a small amount of money to help feed the refugees. He gave a simple reply: "We'd be grateful."
I didn't know at the time how much faith and prayer came before that conversation. Shortly after receiving the assistance, Alex wrote to me again with these words:
It's with gratitude that we share that we have already made the first purchases of food and hygiene supplies for refugees.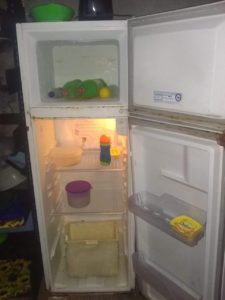 Before we arrived with the purchases, there wasn't any protein in our fridge; just water for the 55 Venezuelan refugees being hosted at the Nueva Vida shelter.
When the food arrived, there was great joy among the refugees!
Our hearts were also filled with emotion in the face of those gifts, remembering that two weeks ago we didn't know how we'd be able to feed so many people in need. Although we have supporters, the financial difficulties during this pandemic were mounting. But God comforted us through His Word that we should not worry about food needs because our Father in Heaven already knows what we need very well. He Himself will give us what we need if we put Him first in our lives (see Matthew 6:31–34). It was on this precise day that we received word from you about the offer of assistance.
Today we held a moment of prayer to thank God for responding so promptly to our pleas, allowing us to experience His faithfulness  once again, and never forsaking the needy. We also prayed out to God to reward Thom and CAMA and everyone else who has been used to fulfill His will in these refugees' lives with unparalleled blessings.
We know that even better things are yet to come in this project. When we see the original leading from God, the recent nudge of the Holy Spirit, and this outcome—even from a distance—we see that God does not require our presence, but He does ask for our obedience.
Alliance Women is seeking prayer and financial support for this project. GIVE today.