Venezuelan Refugees: Brazil
While most of our focus has been on projects in Colombia that reach Venezuelan refugees, there is also a great—although largely unseen—need in Brazil.
Manaus is a city of two million people in the middle of the Amazon Rain Forest. Today, about 85,000 refugees are calling it home. Unlike other locations in South America, there's a language barrier: the Spanish-speaking refugees are now in a Portuguese-speaking country.
Early in 2020, I was praying for the Lord to show me how to respond to the need in Manaus. That very day, I was connected with an Alliance pastor, Alex, who recently moved to Manaus! I scheduled a trip in March to begin our work, but just 24 hours before departure, my flight was cancelled due to the coronavirus.
I was frustrated (and, to be honest, a little angry) that I couldn't make the trip. However, as I sat in my office, vented to God, and listened for the Holy Spirit, it became clear to me that some small things could still be done even without the trip.
I wrote to Pastor Alex and asked if he could use a small amount of money to help feed the refugees. He gave a simple reply: "We'd be grateful."
I didn't know at the time how much faith and prayer came before that conversation. Shortly after receiving the assistance, Alex wrote to me again with these words:
It's with gratitude that we share that we have already made the first purchases of food and hygiene supplies for refugees.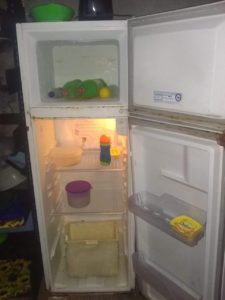 Before we arrived with the purchases, there wasn't any protein in our fridge; just water for the 55 Venezuelan refugees being hosted at the Nueva Vida shelter.
When the food arrived, there was great joy among the refugees!
Our hearts were also filled with emotion in the face of those gifts, remembering that two weeks ago we didn't know how we'd be able to feed so many people in need. Although we have supporters, the financial difficulties during this pandemic were mounting. But God comforted us through His Word that we should not worry about food needs because our Father in Heaven already knows what we need very well. He Himself will give us what we need if we put Him first in our lives (see Matthew 6:31–34). It was on this precise day that we received word from you about the offer of assistance.
Today we held a moment of prayer to thank God for responding so promptly to our pleas, allowing us to experience His faithfulness  once again, and never forsaking the needy. We also prayed out to God to reward Thom and CAMA and everyone else who has been used to fulfill His will in these refugees' lives with unparalleled blessings.
We know that even better things are yet to come in this project. When we see the original leading from God, the recent nudge of the Holy Spirit, and this outcome—even from a distance—we see that God does not require our presence, but He does ask for our obedience.
Alliance Women is seeking prayer and financial support for this project. GIVE today.
Venezuelan Refugees: Ipiales, Colombia
Thousands of Venezuelans arrive in Ipiales each day. Having fled the hunger and violence in their home country, they hope to find stability in Ecuador or in another South American country. Without enough shelters in the city, refugees are forced to sleep in parks or on sidewalks.
Long before the Venezuela crisis, an Alliance church was planted in Ipiales. With deep compassion, the church began providing immediate relief, opening their homes to displaced families. Soon Pastor Luis Giovany Castillo and the congregants began to dream of opening an official shelter in their city.
They envisioned a place where families could stay up to five days and receive food and a good night's sleep. Guests would have access to showers, washing machines, the internet, and legal advice. The pastor and volunteers would have an opportunity to talk with these refugees about God's steadfast love.
With a bit of CAMA's guidance, your generous gifts, and official government approval, La Alianza por el Prójimo (Neighbor's Alliance) opened on January 18, 2020.
Hope Offered in Grief
Sixteen-year-old Carioli, her boyfriend, and their one-year-old daughter were some of the first to arrive. They ate, took a shower, washed their clothes, and sat down at one of the computers to check in with their families. Seconds after logging on, Carioli received a message from a family member saying that her father had been killed in Venezuela that day. Carioli broke down in tears sitting at the shelter's computer table.
The pastor and a group of volunteers immediately came around her, listened to her story, and prayed with her and her family. The pastor also shared of the hope found in Jesus. Before Carioli left to continue her migrant journey, she put her trust in Jesus as her Savior.
Will you pray that other believers and churches will open their hearts to Carioli and her small family as they continue their journey? She has experienced an enormous amount of trauma and grief for a 16-year-old. But isn't it amazing to see how God opened the shelter just in time for Carioli's arrival?
Please be praying for Venezuelans. Both refugees and those that remain in their country are very vulnerable. We praise God for churches that have stepped up in love around the world, and we continue to hear reports that more refugees have accepted Christ, and the beds are often full. Thank you for partnering in this life-giving project. We know God has more in store for these at-risk people.
Alliance Women has a goal to raise $32,000 for the CAMA Venezuelan Refugee Relief project. Give today. 
Venezuela Refugees: Bogotá, Colombia
After years of worsening economic conditions and increasing violence, millions of Venezuelans have had to make the difficult decision to leave their home country and seek refuge elsewhere. Today, more than four million Venezuelans have fled their home country, with most of them living in Colombia. CAMA has been partnering with the Colombian Alliance in several locations, including a shelter in Ipiales, medical work in Armenia, and a food program in the capital city of Bogotá, where Virna and Luisa's families have sought refuge.
Virna 
Virna arrived in Bogotá with her youngest daughter and eight-year-old grandson. They made the journey on foot, which took them a year. When she arrived in Bogotá, her shoes were so worn that they were literally being held together by threads. They had the clothes they had worn, and nothing more. Virna's oldest daughter was already there, so they moved in with her into an apartment which was just nine square meters shared with 15 other people.
Virna had heard about the Lord in Venezuela but hadn't been connected with believers in a long time. Now in Bogotá, she heard about Betel Alliance Church and was greeted warmly by the pastors and community there.
Virna found she could almost make ends meet by selling hamburger patties on the street, but that barely covered rent. In partnership with CAMA, Betel Alliance Church started offering a meals program for refugees, which came at just the right time, as her daughter and grandson were badly malnourished.
After experiencing love through Betel's food program, Virna felt convicted to give back. She made the decision to volunteer herself in the dining room. "For many, a plate of food must seem like very little," Virna said. "But for people who start from scratch in a country, it is a lot—even more so when accompanied with a message of hope.
"My service in the dining room has filled me with deep joy, seeing my brethren come to not only feed their bodies but their spirits with the words of encouragement that God continually places in the hearts of our pastors and volunteers. Today, we live in a better place with a bathroom and a kitchen, and I have been able to grow in the knowledge of the Word through the church."
Luisa
Luisa was a nutritionist in her home in Venezuela. She arrived in Bogotá with her husband and seven other family members, including her mother and grandmother. They arrived with a small amount of money, which they used to set up a street cart to sell cell phone accessories.
Luisa decided to search for a church in Bogotá because someone in Venezuela had shared the gospel with her. She became connected with Betel Alliance and instantly began to feel like she was at "home." She started taking membership classes in the church and inviting other refugees.
Luisa was burdened for the needs of her fellow Venezuelans and began working with the dining room ministry and advocating on behalf of the refugees. One of the great joys of this dining room ministry has been seeing how those most in need are encouraged and empowered, so that they are able to give back with compassion to their community.
Luisa arranged a missions trip back into Venezuela to take supplies and evangelical materials through the outreach department at Betel. This trip resulted in aid being sent into prisons and hospitals in Venezuela.
Luisa has since set up an informal employment network, assisting new refugees in finding safe and healthy ways to work in Bogotá, while continuing to work to make sure that her fellow countrymen have food security and a church connection in their new home.
Alliance Women is seeking prayer and financial support for this project. GIVE today.