Myat's Story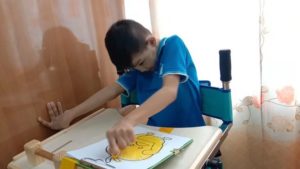 My name is Myat, and I am 10 years old. I am very happy right now. Do you know why? Because I won second place at a school coloring contest.
In the past, I couldn't even grip my coloring pencils properly or hold anything steadily. When I was coloring, I needed my mother to help stabilize my hand to prevent the pencil from falling. When I gripped other objects, I needed my dad's help.
At Eden Centre, the teacher taught me new ways of holding onto my pens, along with how to control the strength of my fingers.
I love going to Eden, where my fellow students are all my good friends. My teacher shares all kinds of knowledge with us, tells us many fun stories, and helps us enjoy all sorts of activities.
This year what really made me happy was that I made many friends from outside the school— children who live in our neighborhood. Before then, my father and mother did not feel comfortable with me going outside, so they made me stay at home all day. As a result, I did not have the chance to get to know my neighbors.
But after my teacher talked with my parents, they acknowledged my improvement and have allowed me leave the house to play.
Occasionally, my friends come to my home to draw and watch cartoons with me. We like to share with each other the happy and interesting things in our lives.
I hope that I can share my joy with others so that more kids like me can have the chance to join our center and have fun! "Truly I tell you, whatever you did for one of the least of these brothers and sisters of mine, you did for me" (Matt. 25:40).
Alliance Women seeks to raise $30,500 to provide resources for orphans and children with special needs at the Eden Centre in Myanmar. Would you prayerfully consider giving to this need so others like Myat can thrive in life?
To do so, please visit www.alliancewomen.org/give.
Vulnerable Children Find a Place to Belong
ORPHANS
Located in Southeast Asia, Myanmar has a population of about 60 million. More than 50 years of civil war has caused major casualties and property damage.
Compounding this, Myanmar is among those countries with the world's most serious drug problems. The continuous war, drug abuse, and poverty have caused many children to become orphans.
Without the protection of parents and other caregivers, these youngsters are extremely vulnerable to exploitation and are easy targets for criminals. To survive, some orphans may resort to crimes such as theft, prostitution,  and drug trafficking.
Our team has opened orphanages to provide much-needed services to these desperate orphans. With your financial support, we will hire two Burmese language teachers and two Chinese teachers. We will make improvements to the building and provide school uniforms, desks, and teaching resources.
CHILDREN WITH SPECIAL NEEDS
Because children with special needs cannot attend mainstream schools, we also offer age-appropriate culturally based courses, including Chinese, math, English, painting, and computer skills.
We provide free rehabilitation services such as muscle development, communication, cognition, self-care, and social skills, for children with disabilities from impoverished families.
Beyond that, we provide training in parenting skills to those who are caring for children with cerebral palsy, along with home aids equipment to improve children's recovery at home.
To continue our ministry to these children, we hope to hire five physiotherapists.
OUR RESPONSE
Please pray for these children, their families, and our Alliance partners in Myanmar. Alliance Women has set a goal to raise $30,500 for hiring more teachers and resourcing these ministries. For more information on how you can give to this project, please visit www. alliancewomen.org/give.
Download this project profile.