God's Purpose Revealed
Why am I here? I wondered as nurses wheeled me into a COVID-19 ICU. For the same reason I am anywhere—to glorify God!
Impacted by the pandemic, I remembered God's words to Moses when he was in the midst of a plague: "But I have raised you up for this very purpose, that I might show you my power and that my name might be proclaimed in all the earth" (Exodus 9:16).
I'm not Moses, but I asked God to reveal His purpose in this COVID season of my life. My heart heard His answer: Look around you, Elaine. You are surrounded by hurting people. What can you do to help them?
Immobile, attached to an oxygen tube, I couldn't do much, but I could pray, smile, express appreciation, and spread joy. God placed a desire in my heart to speak blessings of protection in the name of Jesus on each person who entered my room. No visitors were allowed, but while I was in the Intensive Care Unit (ICU), my world overflowed with doctors, nurses, phlebotomists, physical therapists, respiration therapists, food deliverers, and housekeepers.
As I listened to their stories and watched them serve, my mind saw the love and sacrifice of these precious people. I felt their pain, exhaustion, and the emotional toll of caring for people who suffer and die, the loneliness of missing their own families, and the fear of taking COVID-19 home to their loved ones. I heard their hearts' cries and saw their tears as they danced daily with death. Healthcare workers give their lives so we can live, and they do so with love and grace.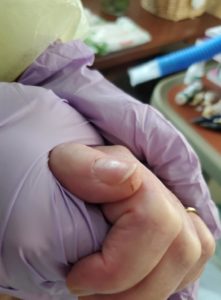 Just like Jesus.
What was their response to my breathless prayers? Some paused in the hall outside my door to hear me speak words of affirmation and love. Many cried. Everyone thanked me. A few held my hands and prayed with me and for me. For a short time in a long day, we left COVID-land behind as Jesus was proclaimed and His power shown.
Whether our journeys take us to a COVID-19 ICU, a cancer center, a baseball game, or a grocery store, let us heed God's words to Moses and seek God's purpose, proclaim His name, and show His power.
I'm home now recovering from damaged lungs. The other day I received a note from one of my nurses thanking me for my prayers. What joy to serve those who served me. God blessed us all with His Presence in a COVID ICU.
Crossing Borders
Citizenship Matters
When my daughter married a Canadian seven years ago, international borders suddenly became an integral part of my life. But because Canada and the United States are "first cousins," other than a passport and a dose of patience, traveling between the two countries was a breeze—until Covid-19. Now the global pandemic has made the once-easy border crossing virtually impossible, except for a few.
Recently, as my husband and I drove over the eerily deserted bridge toward the Canadian border to visit our week-old granddaughter, I was hoping we would be among those few who qualified to cross under the strict rules of family reunification. I knew if we didn't get across, we likely wouldn't be able to see them for a year—because my daughter and son-in-law were preparing to move to the Canadian arctic.
I pulled out the Fed-Ex envelope with our paperwork in preparation for our turn with the border agent. I flipped through the packet: passports, quarantine plan, our daughter's birth certificate, and a notarized copy of her Canadian permanent residency card. Surveying the documents, I realized how much was riding on their acceptance—they were our ticket to enter a country we had no right to access because we were not citizens.
Gaining Access
As I waited, I remembered the words of the apostle Paul to the church in Philippi reminding them that their citizenship – and that of all believers – was not on earth, but in heaven (see Philippians 3:20). And, when the ultimate border crossing is before us, the proof we need to enter will not be notarized documents but our individual allegiance to Jesus Christ. Our access to His Kingdom is not granted by a passport but by our names as recorded in the Book of Life.
Before our trip, we researched and complied with the requirements for entrance into Canada. In contrast, my heavenly citizenship was granted through no effort of my own—it was purchased at the highest cost, the King's very life.
And as I recognized this gift, I also realized how easy it is to lose sight of its true value. In all the worry and preoccupation with the ongoing news of COVID-19 infection rates and riots, have I overlooked opportunities to boldly share where my ultimate allegiance is? Perhaps right now, amid the uncertainty and upheaval, my neighbors are more open to the truth—more willing to hear about a place where there will be no more tears, injustice, division, or pandemics.
But how will they hear unless someone tells them?
Thankfully, my preparation paid off and we made it across the Canadian border. I'm writing this with a newborn on my lap in a house looking increasingly bare— the movers come tomorrow! I've been privileged to immerse myself in precious family time and am grateful my credentials made that possible.
I'm also thankful for the reminder of my ultimate destination and feel freshly compelled to tell as many as will listen that they too can enter His eternal Kingdom.
Then I Understood
We are living in a season of uncertainty. Our previous routines now require careful evaluation and creative solutions, leaving many of us exhausted.
This is not new to the human experience. Scripture gives us multiple examples of individuals who have navigated life's big challenges. Psalm 73 is an honest snapshot of one person who was able to stop his thoughts from spiraling downward and to find hope—the psalmist Asaph.
Asaph begins by stating what he knows to be true about God. "Surely God is good to Israel, to those who are pure in heart" (Ps. 73:1).
Yes, God is good. God will always be good. Yet Asaph's knowledge about God did not prevent an honest struggle within his heart and mind. From my experience, this is a normal tension. An honest struggle is healthy when we, like Asaph, can acknowledge and express our feelings.
Asaph confesses the turmoil in his soul with this opening statement: "But as for me, my feet had almost slipped; I had nearly lost my foothold. For I envied the arrogant when I saw the prosperity of the wicked" (Ps. 73:2,3).
Asaph's honest confession continues (see Psalm 73:4–15) and concludes with this statement: "When I tried to understand all this, it troubled me deeply" (73:16).
Can you relate? Is anything troubling you deeply during these uncertain times? There is good news. Just as Asaph's journey—as recorded in this psalm—was not over, neither is ours.
Jesus' invitation is from the heart of a good God, who welcomes us to draw near: "Come to me, all you who are weary and burdened, and I will give you rest. Take my yoke upon you and learn from me, for I am gentle and humble in heart, and you will find rest for your souls" (Matt. 11:28–29).
I don't know if Asaph heard this invitation in his own spirit, but he did find a fresh perspective and rest for his soul when he entered the sanctuary of God. The tone of this psalm pivots when he declares: "then I understood" (see Psalm 73:17).
Take some time to savor the remaining portion of Psalm 73. We can smile at Asaph's ruthless honesty when he admits being a "brute beast." And we breathe a sigh of relief as Asaph finally finds peace for his troubled soul.
The world will continue to be complicated and confusing, but we do have a safe place—a refuge—for our emotional and intellectual distress.
The psalmist's conclusion resonates with my deeply felt need for soul rest.
My flesh and my heart may fail, but God is the strength of my heart and my portion forever. . . .  But as for me, it is good to be near God. I have made the Sovereign LORD my refuge; I will tell of all your deeds (Ps. 73:26, 28).
May we all be able to declare, even amid uncertainty: "It is good to be near God." And may we all have stories to tell of how He has refreshed our souls.
Rest, Uproot, Reveal
If you're like me, you're getting tired of hearing about COVID-19 and are eagerly awaiting a day when we can return to a more normal life. Yet through this unusual time, God has been teaching me some things that transcend the restrictions this virus has limited us to.
Early in the pandemic I quickly learned that to maintain a healthy outlook I needed to develop some new rhythms in my life. One of those new rhythms is participating a few times a week in a Zoom prayer call open to our district's official workers. Through these calls, the Lord has inspired several thoughts I've been meditating upon that I'd like to share with you.
REST – The first thought is about the benefits of resting in Him. At the beginning of many of our calls, we are given several minutes just to quietly enter a place of rest. One day as I sought to draw near to the Lord I felt distracted, so I asked Him to help me. Soon I began picturing myself as a little girl, sitting on my Father's lap. My head was resting on His chest and I soon realized that my ear was over His heart. What would it be like, I wondered? How would it change my life, if I took the time more often to rest on my Abba's lap, my head on His chest and my ear next to His heart? What would I hear? I want every area of my life—my interactions with my family and others, my work as a missions mobilizer, my recreation—to be led by what my listening ear hears from my Abba's heart, during times of rest as well as during the noise of the day's activities.
UPROOT – For many of us the restrictions imposed on us by the pandemic have been like an uprooting. We must think twice about whether we should go somewhere and about the best ways to interact with people. The topic of our prayer call one day was "uproot." I didn't know that the day before, when my husband pruned and uprooted parts of a terribly overgrown forsythia bush in our yard, that the Lord was preparing me for that topic.
At first, I chafed at the idea of uprooting. I didn't want to think about it. That day I was not happy that I couldn't spend time with my grandchildren or that, for their sake, I was restraining myself from hugging them the rare times we were together. Although I have always worked from home in my role as a district missions mobilizer, I was surprised at the number of times I was kept from meeting with people face-to-face. I didn't like some of the uprooting that was taking place in my life, the uprooting of my freedom to do things the way I liked.
Then as I prayed the Lord reminded me of the forsythia bush. How much more beautiful it is now that the dead and overgrown parts have been uprooted! I anticipate healthy growth to be the norm in its future. I realized that there might be some areas that had become overgrown, sapping the life out of my ministry; I needed to make the call to have them removed. The pandemic forced me to find new ways to do some things that have been surprise blessings, and I anticipate healthy growth to take place because of it.
REVEAL – A verse that was shared on one of our prayer calls captured my attention: "I revealed myself to those who did not ask for me; I was found by those who did not seek me. To a nation that did not call on my name, I said, 'Here am I, here am I'" (Isaiah 65:1). Our God longs to reveal Himself to the lost! In this verse I can almost picture Him jumping up and down waving His arms saying, "Look! Here I am!" For those who have never even heard the name of Jesus and for those who are obstinately running from Jesus, for those who are not asking for Him or seeking to find Him, He makes a way! He sent Jesus ". . . to seek and to save the lost" (Luke 19:10).
May the Lord reveal to us the ways that we can point others to Him—in spite of, or even because of, the restrictions we are experiencing. May we persevere in prayer for the lost, whether intimate family members or peoples of distant lands. May we give generously so that people who have no access to the gospel receive it. And may we mobilize others to do the same.