Myat's Story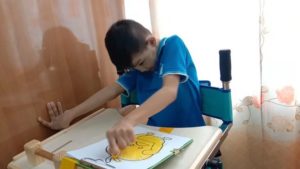 My name is Myat, and I am 10 years old. I am very happy right now. Do you know why? Because I won second place at a school coloring contest.
In the past, I couldn't even grip my coloring pencils properly or hold anything steadily. When I was coloring, I needed my mother to help stabilize my hand to prevent the pencil from falling. When I gripped other objects, I needed my dad's help.
At Eden Centre, the teacher taught me new ways of holding onto my pens, along with how to control the strength of my fingers.
I love going to Eden, where my fellow students are all my good friends. My teacher shares all kinds of knowledge with us, tells us many fun stories, and helps us enjoy all sorts of activities.
This year what really made me happy was that I made many friends from outside the school— children who live in our neighborhood. Before then, my father and mother did not feel comfortable with me going outside, so they made me stay at home all day. As a result, I did not have the chance to get to know my neighbors.
But after my teacher talked with my parents, they acknowledged my improvement and have allowed me leave the house to play.
Occasionally, my friends come to my home to draw and watch cartoons with me. We like to share with each other the happy and interesting things in our lives.
I hope that I can share my joy with others so that more kids like me can have the chance to join our center and have fun! "Truly I tell you, whatever you did for one of the least of these brothers and sisters of mine, you did for me" (Matt. 25:40).
Alliance Women seeks to raise $30,500 to provide resources for orphans and children with special needs at the Eden Centre in Myanmar. Would you prayerfully consider giving to this need so others like Myat can thrive in life?
To do so, please visit www.alliancewomen.org/give.