Denpo's Story
Denpo's father died of a drug overdose; two years later, his mother died of complications following excessive drug use. Today Denpo lives with his aunt, who survives by growing and selling opium.
Eventually, Denpo's aunt gave him away. One day, his adoptive parents asked him to herd their cow alone. Without adult supervision for this dangerous task, he did not dare to go and eventually ran back to his aunt's house.
Denpo's aunt is a drug addict who sometimes beats him. The other children in her household often go without enough food each day, and the aunt doesn't allow Denpo to attend school. The family's health is also very poor. If his situation does not change, Denpo may become a second-generation drug addict when he grows up.
The name Denpo means "truth" in Burmese. Please pray that this child—and other orphans in Myanmar—will find a safe place to belong and will have open hearts to receive the message of the gospel.
Alliance Women hopes to raise $30,500 to open a learning center to help children like Denpo. Would you prayerfully consider giving to this project? Information  can be found at www.alliancewomen.org/give.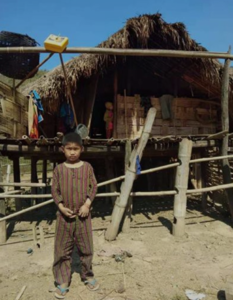 This is Denpo (named changed), a Burmese child.