A Safe Place
Sarah* looked right and left to ensure no one was within earshot. Then, with tears in her eyes, she said, "There isn't a safe place anywhere to share my doubts."
We had been in conversation for hours as she expressed her fears and doubts about the majority religion here. I had answered many questions about the Way, the Truth and the Life, and Sarah allowed me to pray for her in a private place. During prayer, the Holy Spirit impressed on me John 8:32.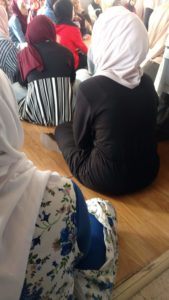 You will know the truth, and the truth will set you free.
I told Sarah what I had heard, and her eyes lit up with joy. This is my deepest longing for the women of this city—that they will know Truth and find freedom through Him.
Despite hardships, God is at work. Sarah and another local seeker had the courage to attend a class with me in a local team member's home. Through stretching and breathing exercises, Christian music, Scripture meditation, and prayer, I shared the good news.
God has already graciously provided a place for us to establish a wellness program. Interest among local women is building. With your help, we can transform it into an inviting space worthy of the women we will invite!
Our dream is to give women a sense of belonging and access to the love of God. We desire to provide counseling, wellness education, and fitness classes. We will also mentor and train local women to sustain this work.
Please intercede for the young women in our region. And pray for funds to furnish a wellness center that creates a welcoming, safe place for them to gather and be refreshed.
For more resources on the project visit www.alliancewomen.org/resources.
Alliance Women has a goal to raise $13,500 for this learning center. For information  on how you can give to this project, visit www.alliancewomen.org/give.
*Name changed